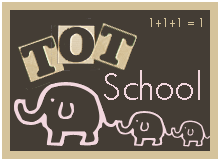 This week I have tried to keep TotSchool as hands-on and active as possible, since that typically seems to be how my energetic little

man thrives the best!
Being that he is also a very musical kid we decided to bring out his musical instruments, pop on a kid's Bible songs CD and let him have at it! His favorite, this particular morning, happened to be his drum, which he beat so wildly that I am sure even the neighbors could hear the ruckus (but then again, that is probably nothing new for them)!
He did manage to sit (or stand, rather) at the table for a bit and do some coloring in his Bible stories coloring book. I was amazed when he found a picture of an old man in a robe and said "Mama! It's Moses!!" It was ACTUALLY a picture of Noah, but hey, I'll take it anyway! I was just so impressed that he even knew the name of the old testament character that I was beyond thirlled!
The last good 3/4 of the time he spent "coloring" was actually put towards connecting all of his markers end-to-end, but he was having fun and experimenting with color, so once again- I'll take it!
This morning we attempted to make Creme Brule' for a treat for dad when he gets home from work today. I say attempted because our oven has been on the fritz lately and in order for it to stay hot at all you have to set the temperature above 400, which doesn't tend to work too well when your recipe calls for 350! Up to the actual baking part, though, everything was going great! Roman helped me pour in all the ingredients...

and stir them up...
and then use the strainer as a hat...
and as though he was a Samurai warrior!
All in all, it has actually been a fairly good TotSchool week! Oh, and if your oven does happen to be working, here is our Creme Brule' recipe- it really is
amazing
when cooked correctly!
Creme Brule'
1 Pint heavy whipping cream
1/2 cup sugar
4 egg yolks
1 Tbsp Vanilla extract
Topping: 4 Tbsp sugar to 1 tspbrown sugar
Preheat oven to 350
Heat cream over low heat until bubbles form around the edge of the pan.
Beat egg yoks and sugar together until thick and smooth, about 3 minutes.
Gradually beat egg/sugar mixture into cream.
Stir in Vanilla and pour through fine strainer into 6oz. custard cups.
Place custard cups in baking pan and add enough water to pan to measure about 1/2".
Bake until set, approximately 45 minutes.
Remove cups from water & refridgerate until chilled.
Sprinkle cups with2 tsp sugar blend each.
Place under broiler until top is medium brown.
Chill before serving
Enjoy!