This past weekend I delivered my third and last cake for the month (and probably for a little while- I need a little cake break). This one was in honor of a friend's son's 1st birthday. His name is Moses, so, appropriately enough, I made the parting of the Red Sea!
This was probably the most fun cake I have gotten to make so far. It was the most relaxing because I made sure to give myself more than enough time- no rushing and no late nights! I also felt like I was able to get the most creative and just kind of have fun. They gave me no specifications so I really just got to run with it.
I made pretty much everything out of fondant. For the signs I added in some Gum-Tex (also known as Tylose) powder to help stiffen them and make them stronger. For the ground in between the walls of water I made a mix of brown sugar and cocoa powder (yum!). To finish it off I made white caps with royal icing and then brushed the whole thing down with glucose to give the whole thing a wet look.
I can't get over how much I love using my
BOSCH Universal Plus Mixer
for making cakes (aside from fondant- which I will never make again!). I love how easy it is to add ingredients through the top of the lid since there is no over-hanging component as there is with most other mixers. It is also so easy to be able to see what exactly is happening within the bowl. Plus, the lid also definitely helps cut back on the amount of powdered ingredients that puff up out of the bowl- which is nice for clean-up!
Remember- this is the time to buy a
BOSCH mixer
from
Marmee's Bread Market
because from now to the end of the year she is offering the food processor attachment for only $30 with the purchase of a mixer. That is a total steal! Christmas is coming- it would be a great gift to ask for this year!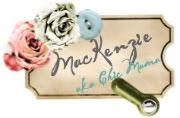 Be sure to visit my sponsor- Marmee's Bread Market- for recipes and everything else you need to easily make fresh baked goods for your family!