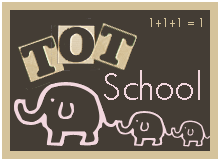 Well, I can genuinely say that Roman and I had a wonderful morning with lots of Tot School learning and activities going on! It all began at breakfast when, of his own accord, he began lining up his grape slices and counting them! I was so proud!
"See Mama? Two!"
From there we did our morning Bible reading in Matthew and then I did some work on the computer while he sat under the computer table looking at alphabet flash cards and books. I decided it would be fun to do some more hands-on crafty activities today (especially since our weather took a turn for windy and rainy today). So, upon Roman's request to play with play dough I decided we should make some again, since the batch we made in January has long since molded and been thrown out!
We went with Red this time and thoroughly enjoyed squashing it through our fingers and making a variety of shapes out of it!
Roman also requested that I make a spider (spiders are on the brain lately since we have had too HUGE ones in our downstairs bathroom since Sunday! Both of which, might I add,
I
had to kill! They are the cartoon character looking kind, with the big hairy bodies and spring-like legs that appear to be ready to jump at your face on a moments notice! Horrible! I refuse to shower downstairs until we can bomb!). For the complete directions on how to make this playdough you can check out
this post
.
From there, we thought it would also be fun to make some finger paints! I have been wanting to buy some for quite a while but have been hesitant about Roman smearing chemical-laden paint all over his arms just for a little artistic fun! This morning, however, it dawned on me, "Why don't I just
make
some finger paints?!" So, I went online and googled Homemade Finger Paints, and found this great site (along with many others). We went with this recipe, and although a bit gloopy (kind of like thick jello) it worked quite well and Roman LOVED it:
Cornstarch Fingerpaint
4 cups water (divided)
1 cup cornstarch
food coloring
Directions
In a medium saucepan, bring 3 cups water to a boil. Dissolve cornstarch in a separate bowl with 1 cup water. Remove boiling water from heat and add cornstarch mixture. Return to heat, stirring constantly. Boil until the mixture is translucent and thick (about 1 minute). Remove from heat.
As the mixture is cooling, divide into separate bowls and add food coloring. Let the child(ren) carefully mix in the coloring.
Hints:
1. Add 1 tbsp of glycerin to make the mixture shiny. You can find glycerin in most drugstores or pharmacies.
(these are the paints, pre-food coloring!)
See our Beautiful Masterpieces!
All in all, we made 8 different colors (since the recipe yielded quite a large amount of paint)- Red, Yellow, Blue, Green, Purple, Orange, Black and Brown! Although when asked what color something is Roman without question answers, "BLUE," he is much better at picking out a certain color that you tell him to look for, making this the perfect color-identifying activity!
After we had tidied up our finger painting adventure, Roman helped me fix a scrumptious lunch of Turkey, Bacon, Ranch Wraps:
...which we both gobbled up and then headed downstairs (luckily, without any more spider encounters... yet) to do a little reading before Roman went down for his nap and I came up to work... and blog! Last week we took our first (successful) trip to the library, where we got a few books that Roman simply adores! His favorite new selections are
Slithery Jake
(a whimsical rhyming book about a little boy who looses his pet snake) and
The Oak Inside the Acorn
(which I think Roman really only likes because there are numerous trucks throughout the book). If nothing else, it has just been nice to mix some new titles into our reading times since we are trying to read an hour a day in order to complete our Library Summer Reading Program by the end of August (we signed up late and have to read 15 hours! Oops!).
So, here's to a terrific morning and hopes that Roman will wake up in an equally well-tempered and enthusiastic mood this afternoon!