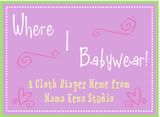 Can you believe I didn't post this one sooner? Yup, that's right- I blog while I wear my babe! How else would I get my posts done for the week?! I have no clue!
Post your Babywearing pics for the week then head back here and include them in the MckLinky! Make sure to include the
Where I Babywear Button
in your post too!
Can't wait to see where you and your babies have been!