Today I wanted to share with you all a little bit more info about how my whole bread-making process works because there is a key point I think I have been leaving out. You all know that I have been making all of my families bread from scratch using a
Nutrimill
and
BOSCH Universal Plus Mixer
from
Marmee's Bread Market
, since the middle of August. I keep telling you all that it is easy and completely doable, and it really is because those machines are so amazing and take a ton of the work out of the whole bread-making ordeal.
HOWEVER, the biggest advantage that my
BOSCH
affords me is the ability to make in bulk! If it weren't for bulk bread-making I know I wouldn't do it- there simply wouldn't be the time. Many of my favorite recipes from
Marmee's Bread Basket Cookbook
have a yield of 4-5 loaves of bread though, which is much more practical than 1 or 2 at a time! Typically I will bake one (or two if I am giving one as a gift) and then wrap the rest of the pre-risen loaves of dough in freezer paper, through them in the deep freeze (or side-by-side freezer if I'm being lazy) and I'm good to go!
When we are getting low on bread (every 2-3 days) I just grab a frozen loaf in the morning, let it thaw slightly, pop it in a greased bread pan and then let it continue to thaw and rise the rest of the afternoon (or however long that particular bread tends to take). This usually gives us fresh bread just in time for dinner and the aroma is so welcoming to usher my husband in the door to after a long day of work!
ALSO- I couldn't wrap up this post without mentioning
Marmee's
dinner rolls and
soft buns
! Both of these rolls are soooooo yummy (seriously- like, the most delicate, airy rolls you have ever graced your mouth with!) and are wonderful to make a large batch of and freeze the rest (once again, pre-rising. Just line them up on a cookie sheet for initial freezing and then transfer them to a food storage bag). Get them out of the fridge a couple of hours before you are going to serve dinner and you will have piping hot dinner rolls by the time you all sit down at the table (well, if you throw them in the oven at some point, that is ;-). And, I mean, what is really better than a nice juicy hamburger on a homemade bun! Yeah Buddy!
And an aside on
Marmee's
dinner rolls- you end up rolling them into crescent rolls to bake, but if you freeze them pre-rolling (flat) between two pieces of freezer paper and then throw them in a baggie, you can use them for all sorts of recipes (like pigs in a blanket or whatever!).
I am just so in love with the ability to make all this wonderful fresh and wholesome bread for my family and am so grateful for the opportunity that
Marmee
gave me to own such a wonderful machine! Thank you Marmee!!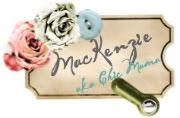 Be sure to visit my sponsor- Marmee's Bread Market- for recipes and everything else you need to easily make fresh baked goods for your family!