I found some serious inspiration and thought this week! I just have to share all of this with all of you!
First off- isn't this just beautiful?! I found this pic on
this post by The CSI Project
and it took my breath away! I'm in love! There are also sorts of other cool inspiring photos on that post, so you should really check it out!
Here are some words from Michelle Duggar
on discipline and encouragement for your children. I love what she has to say, however she doesn't ever seem tog et around to answering the question of whether or not they spank. My guess is they either don't or they feel it is too private a matter to share with the world (in order to avoid scrutiny and criticism).
This is a great post from on
how to prepare your car for summer
from Organize and Decorate Everything. I really need to get on this- it is a great idea!
Yet another beautiful
flower tutorial
!!! This one comes courtesy of
Shanty2Chic.
We finally got paid and a glue gun is on my list (yes-
gasp!
I don't have one!)! I have great plans for this little flower!
This was such a good post from A Holy Experience all about
the marriage bed
. I especially like
The Love Collecting Box
- so make sure you scroll down!
I may just have to make
these cupcakes from Hoosier Homemade
for Lion Cub's upcoming birthday! Aren't they cute!?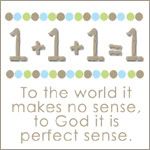 Oh and have you heard that
Carisa at 1+1+1=1
opened her
"Members Only" section
?! Guess how much she is charging for a lifetime membership?
$10!!!!
I told her she was crazy but am also incredibly grateful!! I am so indebted to this wonderful lady for all the inspiration and resources she has given us (and everyone) for homeschooling! We are
definitely
going to get our membership at the end of the summer when we officially kick off our school year!
Lastly, I have completely fallen in love with
Granola Mom 4 God
this week! If you haven't seen this blog you have to go there right now!! She has so many wonderful ideas (and giveaways!). I plan to make her mayo recipe tomorrow!
Happy reading- I hope you enjoy as much as I have!