I was inspired today to hunt around my house and find every green diaper we own in honor of good old St. Patty's Day! So, here they are:
Left to Right, Top to Bottom:
Top Row
2 Camo-embellished infant prefolds
2 dyed infant prefolds
2 dyed newborn prefolds
1 pair of large wool shorties
1 pair of small wool shorties
1 medium Happy Heinys
1 Thirsties Fab Fitted (the other one is in the wash)
1 BumGenius 3.0 (grasshopper)
Middle Row
3 large Dream-eze fitteds
1 small Thirsties AIO
1 small Monkey Doodlez AIO
2 dyed size 0 Kissaluvs
Bottom Row
1 Forest Critters Newborn Nanipoo
1 Turtles Newborn Nanipoo
1 Chickens Newborn Nanipoo
1 Hawaiian Newborn Nanipoo
1 Polk-a-dot Newborn Nanipoo
Yup, that's it! I know, it seems like a lot but you have to remember that they are all different sizes. Plus, we have a fairly large number of green dipes since it is a pretty gender-neutral color and we don't find out what we are having (and we want to have more kiddos that they can work for).
The knit shorties are in the
Perfection Pants Pattern
, which actually just got re-released in a more stream-lined edition with lots of pictures to walk you right through! Any of you knitting mamas have definitely got to check it out!
If you want to purchase similar dipes to mine, you can find most of them right here:
One of the especially great things about Kelly's Closet is that you can earn reward points for everything you buy to get free merchandise, and who doesn't love free?! Kelly's Closet also has an AWESOME blog that hosts weekly giveaways (and a little extra green-giveaway for St. Patty's Day!)! This week you could win:
2-
Clover Organic Velour Fitted Diapers
1-
Thirsties Cover
8Pk bumGenius Bamboo Wipes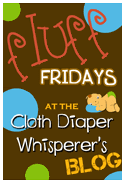 Have some green dipes?! I want to see! Post a comment linking to your post!