Alright- I meant to do this intro a few days ago for all you readers here from the
Ultimate Blog Party
, but somehow time just slipped through my fingers! Sorry about that!
So who is Mama Kenz (or otherwise known in internet circles as Chic_Mama)? Well, put simply, I am a mama to one almost-3-year-old little boy and another babe on the way in late May. I am a Christian and strive to bring my family up in the Lord. One of the ways I do this is through tot-schooling my son (home-pre-school) and eventually homeschooling him (and the otheres to come!). You can see more about our tot-schooling
here
.
I am also a birth and postpartum doula and am passionate about natural & attachment parenting, which I teach parents about through my company called
Chic & Savvy Mamas
. In the coming months I will be blogging more about these topics with my impending homebirth in May! After the babe is here I plan on introducing a few new memes, including a fun one about breastfeeding and another on cloth diapering! I will also be adding some tidbits in on all kinds of babywearing! So, if you are a mama of a babe- Mama Kenz Studio will be
the
place to be! You can also find my bloggings on all things green at:
Beyond all that, I enjoy blogging, reading and knitting to relax. I like few things better than a good cup of tea (or bowl of ice cream), a chick flick and my favorite current knitting project! In fact, as you may have noticed in my left side bar, I host a knitting meme right here at the studio! I will be posting one later this week, so if you want to participate stop back by and share in on the fun!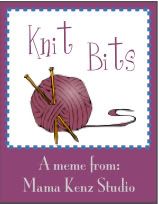 So, as you can tell, there is lots to come in the next few months (including some giveaways!) so be sure to check back!! Want updates straight to your inbox? If so, plug your e-mail into the feedburner subscription to my blog in your left sidebar and you will get all my latest posts, news and giveaways straight to your e-mail! Another great way to hear about my latest happenings is to become a follower (which could also get you some extra entries in upcoming giveaways!)!
I would also love if you added my button to your blog (find it in the left sidebar also!)! If you sign-up for any of my updates or add my button, I would love to hear about it in a comment! My promise to my readers is if they leave a comment I will always return the love (as timely as I can!)!
Thanks for stopping by! I hope you enjoyed your stay and that I can be your gracious host someday again soon!