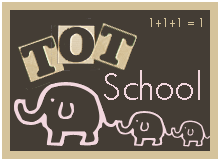 Wow- what a week for Tot School! We did so many great activities that I recently got off the web (namely at 1+1+1=1 and Totally Tots) and Roman LOVED them! (Check out
this site
for some really helpful ideas and explanation of
tot-trays
- the main idea we were running with this week) Every activity was a hit with him and many of them he put his own spin on which was so fun to see!
W started off the week with color hopscotch. We set pieces of construction paper all around the living room and I told Roman to jump on the color when I called it out. I quickly learned that my wording seriously influenced the outcome of this activity- you see, all Roman wanted to do was jump
over
the colors and never really stopped to listen what I was telling him!
However, as soon as I told him that I wanted him to find the color I called out and just stand on it, he did MUCH better. At that point we started to have much for fun and he actually concentrated on what we were doing!
He also had fun adding his tractor to this activity! He decided to drive his tractor to the colors I called out, and when we were done he picked up every color with his tractor and brought it to me. We will definitely be doing this activity again and will probably try different versions as well (such as numbers, letters and shapes). I also want to eventually buy colored foam sheets to use instead of the construction paper so that they will hold up a little better.
Painting was another first for us this week and also a HUGE hit! Roman got to wear one of daddy's shirts (which he kept on all day!) and loved showing off his art work!
Later in the week he had a lot of fun working with paste and turning his painting into a birthday card for daddy. I printed some birthday related clip art off the internet and he pasted them on the card, that he then proudly presented to daddy with a rousing toddler rendition of "Happy Birthday to You!"
We worked on the Letter V worksheet I made for him (the letter with pictures of words that begin with that letter) and he tolerated it, however quickly moved on to other things. This is a hit and miss activity- he likes it more some weeks than others.
We laced shape cards that I made out of cardstock for him. They quickly became flying numchucks though in his crazy little toddler hands, so we moved on!
The bean bowl was a huge hit- I mean HUGE! To start with he helped me pour an assortment of beans and lentils into a large bowl (super cheap at Walmart). I then hid a bunch of small cars in the bean for him to fish through and find. He loved running his fingers through them to find his prizes.
Once he had re-hidden and found the cars himself a few times he wanted to move onto stirring so he went and found a whisk and stirred those beans for probably a half and hour! It was just so much fun to him! On another day I gave him a funnel and a cup to work with in the bowl along with whisk, which we also immensely enjoyed.
We beaded pipe cleaners another day. He was surprisingly better at this than I had anticipated him being, after he started concentrating- at first he just wanted to fill up with truck and trailer with beads!
This week I am looking forward to adding cutting, sorting, and more counting and letter activities. Should be another great week!