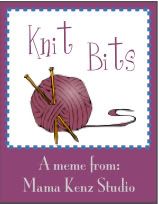 Alright, much later than I had originally intended, but completed none-the-less, here are the sets I have put together for the babe on the way:
Both sets include a pair of perfection pants longies I knit, a hat I knit, a
Nanipoos
newborn diaper, socks, and two shirt options. I figure this should covers us for the first day or night (whatever time this babe is born), and of course after we actually decide to put clothes on (which could be a while since I plan on taking an herbal bath with the babe and getting as much skin-to-skin time as possible!).
It feels really nice to have one more thing checked off my long list of things to do before this babe gets here! Both sets are packed into a paper bag and tucked away, patiently awaiting the day that one of them will be put into use! I can rest easy knowing that at least, if nothing else gets done, my child will be clothed!
So, do have a fun little item you have knit recently (or not so recently) for a babe in your life? If so, join the meme by leaving a comment with a link to a post about your project! Make sure to include the button in your post so people know this is the meme you are participating in!
Also, for all of you baby-knit-lovers out there, be sure to check back this summer during the Summer of Baby Love party on my blog- I will have lots of contests for knit & crocheted stuff, including some VERY cute longies and soakers! Until next time!