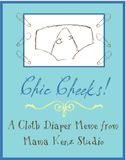 Well, Lion Cub is still growing like a weed so I had to purchase some size mediums! I had a few from R-Man but a lot of them the elastic was shot and so forth, so buying a few more was really the best option right now. Plus, R-Man still wears his fab fitteds as a just-in-case during naps (which he rarely wets, but still) so now that they are in the same size (crazy right?) I just couldn't resist!
So I got 4 new Fuzzibunz Onesize (which I TOTALLY Love!!), 4 Thristies Fab Fitteds and 2 snap in soakers to go with my GroBaby! Very exciting and helpful!
Have you received any fluff mail lately? Link up!