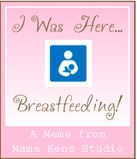 We went back out to the lake this past weekend and my in-laws finally put their boat in (they hadn't because during our horrible winter their shed collapsed and broke the whole windshield- frame and all). It has been really warm so it was great to get out on the water! Lion Cub and R-Man loved the new adventure!
I do breastfeed in a boat, I would breastfeed with a goat!
I like to breastfeed, yes I do! I like to breastfeed, how 'bout you?!
Post (include the
I Was Here... Breastfeeding
button) and Link!