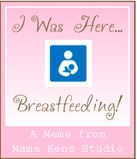 I have tried pumping a few times in the last few weeks and although Lion Cub doesn't seem to be as completely averted to the bottle as R-Man was, he still isn't
that
interested. I am hoping that in the next month or so he actually will take one and Jer and I can have an evening out by ourselves! We'll see!
So, instead of an actual breastfeeding pic this week. I thought I would post some pumping pics. I think you can understand why I just couldn't resist posting these!
Phone?
So do you have any breastfeeding (or pumping) pics or stories to share this week? Include the
I Was Here... Breastfeeding
button and link up!
Make sure to come back next week for a little Mama Time- we will be talking about dealing with the blues and postpartum depression.