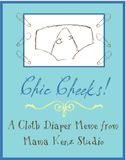 Alright, honestly, sometimes I slack off on certain things about my CDing life. I always use cloth but I don't always execute the full cloth practice as I should. Such as lately I haven't been spraying my dirty dipes off, which I know you don't have to do but it seems to cut down on smell when I do. So, (at the prompting of my husband) I should probably start doing that again.
I also haven't been using my wipes solution, instead I have just been wetting the wipes down with warm water. I think that the water works fine, but the solution seems to help the wipe slide across his skin easier. SO, I should probably start making that again too.
Now, if only these children would stop screaming so I
could
do some of these things! Here's to hoping!
Can you relate? Share about it! Just include the Chic Cheeks button then come back here and linkup! Come on, let me know I am not the only one!