As some of you may recall, over the summer
I reviewed
the book
Pocketful of Pinecones
by Karen Andreola, and the gist of it was that I was
completely
in love with the book and couldn't wait to read the sequel,
Lessons at Blackberry Inn
.
Well, shortly after my review I came across Karen's blog,
Moments with Mother Culture
, which I was positively thrilled about, and shared with her that I had reviewed her book. Imagine my surprise and complete gratitude when she not only visited my blog and commented but also sent me the sweetest email in which she offered to send me a free copy of Lessons at Blackberry Inn out of appreciation for my review! I was shocked and beyond delighted! It is always a humbling thing to have an author or speaker that you have reviewed actually read your work, but then to offer to also send me her book was thrilling, especially since I have been
dying
to read it!
Just to add to my excitement when the package arrived it had not one but TWO of her books inside- Lessons at Blackberry Inn (which she signed! Eeeeek!) AND
Story Starters
(which I will be discussing more on my homeschool blog, The World According to Them, very soon)! And get this- she even wrapped each book in tissue paper! It was the sweetest gift and I am so honored to have received it!
I
wasn't
going to start reading until I had finished the other books that I have been working on... but I couldn't resist! So, I have stashed it in a spot that I can fairly regularly sneak off to for a few minutes alone and I try to read a couple of pages whenever I can! I'm about a third of the way in and loving it just as much as Pocketful of Pinecones! I will be sure to let you all know what I think when I am finished!
Thank you so much Karen for such a lovely gift! I appreciate your generosity and extravagance more than you can know!
Now for a little Thankful Thursday...
#21. Generous authors who go above and beyond
#22. MOPS- a lovely break yesterday
#23. MOPPETS Volunteers- who deal with even the fussiest of kiddos
#24. friends who offer support and encouragement
#25. friends who allow you to return the favor and get the attention off yourself
#26. Kay Arthur podcasts
#27. cool fall days
#28. little boys who say and do the funniest things I've ever heard and seen
#29. second (and third, and fourth, and infinity) chances
#30. creative inspiration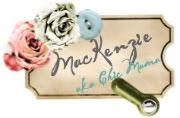 Be sure to visit my sponsor- Marmee's Bread Market- for recipes and everything else you need to easily make fresh baked goods for your family!