Could my little bread-making land seriously get any better?! The deliciousness emanating from my house on a weekly basis is so extravagant I hardly know what to do with myself! It thrills me beyond belief that we have had exclusively homemade bread for almost two whole months now (thanks to my
BOSCH Universal Plus Mixer
from
Marmee's Bread Market
!).
Tonight I tried out
Marmee's recipe for Buttermilk Oat Bread
- brilliant! So yummy! This bread is seriously yummy enough that you could even eat it without butter (but, who am I kidding, why would you want to?!)! I can't wait to send my husband to work with a couple of sandwiches on it tomorrow morning because I know he is just going to love it! True to form, I did substitute some of the unbleached bread flour for my fresh-milled whole wheat and still had wonderful results. I have yet to try one of Marmee's recipes that we don't absolutely adore (and devour in short order!).
Have I mentioned one of my favorite things about owning a
BOSCH
? It has allowed me to be giving in a time when I ordinarily would not have anything to give. We have been so broke that we could hardly see straight but having my
BOSCH
at my side has allowed me to bless other families with some homemade goodness on a regular basis, which in return has been a blessing to me. It is good for the soul to be able to give! I have been able to share at least one loaf from every batch of bread I have made and it is incredibly satisfying- just fills me up!
I do seem to be running into one snafoo though that I am hoping it will work itself out when my husband looks at my machine, but last week I was baking a cake for a friend and made an attempt at homemade fondant that went incredibly wrong. Apparently the stiffness of the fondant was just too much for my cookie paddles to handle and the plastic gears on the bowl and the paddles began to grind on each other, something terrible. As soon as the horrible sound began to emit from my machine and I realized what was going on, I turned it off, but a small amount of damage had already been done to the plastic- nothing that inhibited the machine from working once the malicious fondant was removed (not to readers- don't bother trying to make it- just buy it!).
Today, however, when I was making my bread, a clunking sound kept coming from the bowl on my machine. My husband listened to it and thinks it is something with the gears- great. I am trying not to let devastation set in quite yet and just need to have him look at it more and find my warranty info. How upsetting! I can't bear to think of being without my machine! :-( Hopefully we will get it worked out quickly and relatively painlessly!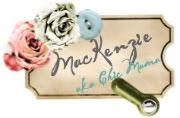 Be sure to visit my sponsor- Marmee's Bread Market- for recipes and everything else you need to easily make fresh baked goods for your family!