So, sometime last week I decided that I better finally buckle down and finish reading a few of the books I have had on my shelf for
quite
sometime, just waiting to be reviewed. I'm not sure why it took me so long to finally get around to it. Under normal circumstances I am an avid reader and find much enjoyment in it. But, as many of you know, the last, oh I don't know, year, has not been normal.
Anyhow- once I actually started reading
The Silent Governess
I absolutely fell in love! Wow- this book was beyond lovely! Filled with suspense and the ever-growing possibility of romance, I was captivated. I couldn't put it down! I would be lying if I said that I didn't sneakily stay up until the wee hour of 2:00am last night to finish the last hundred pages or so! I could easily see this book being turned into a movie, a very good movie, and I don't think that about every book I read.
Julie Klassen did such an amazing job of capturing the essence of the Victorian era and researching the historical details that I almost felt like I was learning something too... but that's not the point- it was just great fiction! Even the language presented a new challenge being very accurately akin to what would have actually been spoken in 1800s England.
Can you tell I liked it?
Go get it! You'll like it too!
You can purchase The Silent Governess
right here
.
This book was provided to me for honest review by Bethany House publishers. All opinions are entirely my own.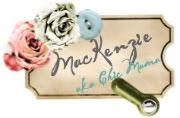 Be sure to visit my sponsor- Marmee's Bread Market- for recipes and everything else you need to easily make fresh baked goods for your family!