"Officially"
I am not back.
"Officially"
I still have work to do in order to pay the dreaded visit to our accountant (who
should
be facilitating a hefty return for us, so maybe I shouldn't dread it so much). But,
"officially"
I said that I would be back in February and there are just so many things happening right now that I can't keep myself away any longer!
First order of business- today Tyndale publishers are launching a brand new website and, as a blogger, I think that their new features are pretty appealing and exciting! Some of them include:
-

Links to all of Tyndale's social media sites

-

A list of all Tyndale authors and their blogs,

Facebook

and

Twitter

accounts, etc.

-

A place where you can share stories about Tyndale products that have had an effect on your life

-

Under product details you can

post reviews with a link to your own blog

so others can see the exciting other books you've been reviewing
In honor of their launch, they are hosting 4 book giveaways a day (kids, Bible, fiction & non-fiction) for 30 days! You can enter every day of the month, so head on over there to celebrate and sign up for their blogging program!
The other piece of news I want to share with you is a contest going on over at
Focus on the Family called The Love Letter Contest
. Basically, every day between now and February 11 Focus on the Family will pick the four best love letters written on the topic of
"Why you want to grow old with your spouse
." Then, on February 12 they will pick one lucky couple to receive a trip to the simulcast Focus On Marriage event in Colorado Springs on February 27!
In honor of the contest I have decided to write some sort of love letter to my husband every day between now and Valentine's, maybe even for the whole month- we'll see how it goes! As you may have guessed, this little project is going to formulate the bulk of my husband's Valentine's gift, and I thought that some of
you
might want to join me in this little project!
Here is what you can do to participate:
Blog love letters to your spouse, linking back to this post (you are welcome to use my button- found in this post and the left sidebar).
Blog about the creative way you are going to present these letters to your love ('cause we all love a good project!).
Link Up! Come back each day and enter your specific posts in that day's MckLinky so that we all can see!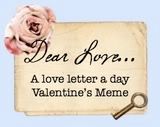 I can wait to spread the love and the creativity! I will be posting my first letter later on today, so be sure to stop back by and link up!