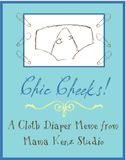 Well, we
finally
got to use our first dipe on our darling little boy and here it is:
And here is the same style diaper but a different pattern:
These diapers were both
Nanipoos
newborn fitteds and we LOVE them!! They contain everything so well and are the perfect fit on our little man!! I couldn't be more happy with how these diapers have performed and highly recommend them to anyone buying newborn dipes (plus, the price is unbeatable!)! To top it all off, the patterns are adorable and they are just soooooo soft! My favorite diapers we have used so far, by a long shot!
Since so many people seem to be leery about CDing a brand new babe, I wanted to give a few simple tips for cloth diapering a newborn:
Make sure you have enough dipes- this cuts down on laundry and makes CDing a newborn much more manageable, even for a new mama (and daddy).
Post washing instructions next to the washing machine so that daddy and other people who come to help can easily wash the dipes for you!
Spray or wipe a little olive oil on babe's bum at each diaper change to make the next meconium clean-up much easier.
If you are worried about meconium sticking to or staining the dipe, use a flushable liner such as these from Kelly's Closet, or simply make your own reusable liners by cutting up strips of microfleece.
So, now it's our turn! I have a couple of questions for you to answer in your own Chic Cheeks posts this week:
1. Which diaper did you or do you plan to use as the first one for your new babe, and why?
2. What are your tips for cloth diapering a newborn?
Don't forget to post the Chic Cheeks Button on your post (HTML in left sidebar)and be sure to come back here and leave the direct link to your post in the Mr. Linky! You can
go here
for all the Chic Cheeks Meme details if you are new. Can't wait to here what you all have to share!