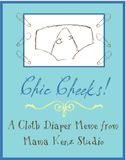 This week for Chic Cheeks I want to hear:
What is your favorite diaper cover and why?
My favorite cover has hands down been the Perfection Pants longies that I knit for Lion Cub! They are almost all he wears! I not only love how adorable he looks in them but how easy and soft they are. Some of our PUL aplix covers tend to roll down so that the edge of the aplix rubs his belly, but we never have that problem with our wool! Now if I could just get around to making a few more pairs we would really be set! I also really like the Curly Purly cover I knit for him and will probably be making another one of those first since they are quick to knit up!
So now I want to hear from you! Write your post then come back here and it to the Mr. Linky! Be sure to put the Chic Cheeks button on your post as well!
For full details about participating in the Chic Cheeks Meme you can go here!