This week I am finally introducing my final new meme: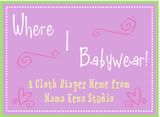 (and yes, just now as I am posting this I realized that the button says this is a cloth diapering meme- obviously, that is wrong! I will fix it just as soon as I have the time!)

Much like
I Was Here... Breastfeeding, Where I Babywear
will give everyone a chance to post and share their favorite things about babywearing along with pictures of where you have been wearing your baby as of late!
So, for this week I am posting a pic from Father's Day. As I mentioned in my
Sleepy Wrap review
earlier this week, wearing Lion Cub during our Father's Day dinner was the only way I was going to be able to eat at the same time as the rest of the family! Sure, he may have had a few crumbs in his hair when it was all said and done, but that was definitely worth it! This past week you would also find me wearing my babe (in our beloved new Sleepy Wrap) while making dinner, blogging and watching TV- sometimes it is the only thing that will call him down (we are both still suffering from colds and keeping him upright is very helpful in keeping his nosie clear!)!
So, where have you been babywearing this week? Write your post, include the
Where I Babywear
button and come back here to post your direct post link in the Mr. Linky! Can't wait to see!