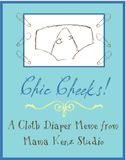 This week I thought we could discuss how everyone stores their diapers. Everyone seems to do it a bit differently & I think I am always gaining tips from other mamas in this area!
We have decided to split our diapers between two separate changing tables- one upstairs and one downstairs in our bedroom. This is our table upstairs:
We have everything split into baskets based on what it is: Fitteds & Prefolds, AIOs & Pockets, and Covers & Doublers. All of the wipe stuff & accessories are in the basket on top of the table for easy access during changes. This is my basket for Fitteds & Prefolds:
Downstairs I have a smaller selection of diapers in the top drawer of our dresser (I figure we will mostly be using these dipes at night right now and the rest of our time will pretty much be spent upstairs):
I also have a basket for the wipes, wipe solution and accessories for on top of the dresser:
This basket has wipes, Snappis, olive oil (for baby's bum- to help meconium be more easily cleaned off), wipe solution (in the peri bottle), baby oil (for massage), & diaper liners (also for the meconium days).
So, what does your diaper storage system/changing area look like? I am very curious!