So, last Friday I was contacted by Lorrie Flem of
TEACH Magazine
. As you may remember, I am participating in her 6 month Step Up- Attitude is Everything program right now, and I had emailed to ask her if there was any work I could do for TEACH to work off my membership fee instead of paying through Paypal. Well, as it just so happened, she had been thinking of me, but couldn't remember my name, and had been wanting to get ahold of me to do just that- work for TEACH!
Doing what? Well,
TEACH
is launching a brand new blogging program and she not only wants me to head it up but design and create the whole thing right along side her! I am still a little in shock! The Lord is so good to have worked out this whole thing and put me in a position that just fits me like a glove!
I have been working on the program the last few days, since accepting the position on Sunday, and the more I work on it the more ideas keep popping into my head! This program is going to be unlike any other blogger program out there and I couldn't be more thrilled to be the Head Mama (as I am being called)! It is a huge responsibility but it has also been a huge motivator to get out of bed earlier in the morning and get the rest of my life organized too!
Plus, getting to work directly with Lorrie is a dream!!! Ever since attending the homeschool conference that I heard her speak at last March (remember when
I LIVE blogged about her
?) I have dreamed that she would be my mentor someday! I have already gotten to talk to her on the phone three times and she is such a joy to speak with! She is just about the best boss in the world- giving me lots of free reign to make decisions and really take ownership of this project! Can you tell I'm excited?!
Want to get involved?
So, I am sure you will be hearing lots more about this program in the future! And, if by chance you think it is something that you might be interested in getting involved in then run over to
TEACH,
see if it is a ministry you think you could get behind, ask me any questions you might have about the program and send me your info (address, blog link, etc...)! We have approximately 40 spots left to fill, so don't hesitate to spread the word!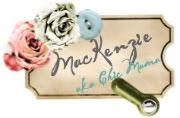 Be sure to visit my sponsor- Marmee's Bread Market- for recipes and everything else you need to easily make fresh baked goods for your family!