Yesterday I made a cheesy chicken and vegetable soup for dinner and I thought that a nice loaf of French bread would be the perfect addition to the meal. So I whipped up a batch of
Marmee's Easy French Bread
and it was just that- easy! There were very few ingredients and I had it kneading in my
BOSCH Universal Plus Mixer
in just minutes! Really the only thing that took considerable time was all the rising- three hours in the bowl and another 45 in the loaf) and the baking (another 45 minutes). And aside from my little miscalculation on how long that would all take in total we would have really enjoyed our bread with dinner. Instead we ate it about 30 minutes after dinner (oops!) but it was delicious!
(A picture will be coming!)
I also wanted to mention that Marmee is running a special on a
Homemaking Bundle
for just 48 more hours! It is over 80 pages (a $40 value) for only $7.99! So head on over there to check it out and purchase it!
I'm so sorry about the lateness and shortness of this post- a big round of sickness and teething in our family, along with a situation that came up to day with one of my best friends (which I will be blogging on later today) prevented me from getting it up on time. My deepest apologies!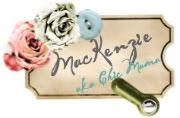 Be sure to visit my sponsor- Marmee's Bread Market- for recipes and everything else you need to easily make fresh baked goods for your family!