Hey Ladies!
Well
a couple of weeks ago
we talked about some of the gadgets you might want to pick up from
Marmee's Bread Market
to make your Thanksgiving and the rest of your holidays a little bit easier, but today I wanted to share some of
Marmee's recipes
with you to make your Turkey day a little bit yummier!
Did you know that Marmee has some AWESOME recipes on her site for FREE?! Wouldn't some fresh, homemade
French Rolls
sound good next to your stuffing and green bean casserole?! Ooo- or wouldn't a nice
Herbed Pull-Apart Bread
make everyone drool as you set in on the table with steam rising and carrying the aroma all throughout the house?
What about Thanksgiving morning? What are you going to serve your family so that they stay sufficiently full for that early dinner? How about some
Green Acres Famous Muffins
or
Mornin' Banana Bread
? There are so many other great options over on
Marmee's site
- you should really go give it a peruse! Your family will thank you!
If you like what you see there, you also might consider getting one of
Marmee's fantastic cookbooks
! I am still in shock by how many recipes she packed into
The Bread Basket Cookbook
for such a low price! You just can't go wrong!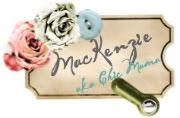 Be sure to visit my sponsor- Marmee's Bread Market- for recipes and everything else you need to easily make fresh baked goods for your family!