Alright, well you all know that I am completely in love with my
BOSCH
and am fairly certain that it would change all of your lives if you owned one, but just in case I still don't have you convinced, I thought I would count down my Top 10 Reasons to ask for a
BOSCH Mixer
for Christmas this year! Ready?
10. It's easy to clean! I find that especially in comparison to my other stand mixer, the BOSCH is incredibly easy to clean! Everything pops right in the dishwasher and the simplistic design if the base unit lends itself well to being easily wiped off.
9. You will save money! Once you get past the initial investment you will save oodles on all the confectionary goods that you would have otherwise bought at the store! Seriously! Now only are we eating better, we are saving a boat load of cash!
8. It promotes a healthy diet! It is so easy to make whole wheat bread in a BOSCH that you will always have healthy fresh baked bread for your family. You will also easily find ways to slip whole grains into the other baked goods you can simply make with your BOSCH!
7. You will save time by baking in bulk and having your machine do all the work! Who would ever dream of kneading 5 loaves worth of bread by hand, at one time, on a weekly basis?! Not me! But with a BOSCH it is simple and fast!
6. Have I mentioned the
cinnamon rolls
yet? These babies are reason enough to ask for a BOSCH!
5. Having a BOSCH makes it easy and practical to bless others with fresh bakes goods. Because you are able to make things in bulk you can very easily spare one out of your five loaves of bread to give to a friend! Baked goods also make lovely impromptu gifts for birthdays, housewarming parties, or any event really!
4. Fresh bread is a powerful bargaining tool! Seriously!! I have even been able to trade bread for massages! You'd be surprised what people will do for a nice loaf of
Marmee's Buttermilk Oat Bread
!
3. If you can manage to convince the gift-giver to bless you with your BOSCH early, you could greatly simplify your holiday baking! Get yourself some
cookie paddles
and go to town!
2.
Cinnamon rolls
! Oh wait, did I already say that?! Well, fine then! I guess I'll just have to mention how simple it is to whip up all sort of other delightful breakfasty treats (popovers, biscuits, pie crust for quiche, the list goes on...) in advance and with very little effort!
1.
BOSCH Universal Plus Mixers
have so many different
accessories
that it's uses go FAR beyond baking! You could get the
food processor
(which is on special fro a GREAT price with the purchase of a BOSCH through the end of the year) and do all your chopping, shredding and mincing in a jiffy! You could get the
blender
and whip up not only your favorite smoothies but sauces and purees too! You could even get the
meat grinder
and make your very own hamburgers!! It doesn't get any fresher than that! The possibilities are endless!
So there ya have it! Now go ahead and just forward this post to your husband, you parents, your in-laws, your grandmother or whoever else just might want to pitch in to get you one of these extraordinary machines, and don't wait cause Christmas will be here before we know it!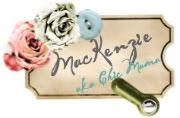 Be sure to visit my sponsor- Marmee's Bread Market- for recipes and everything else you need to easily make fresh baked goods for your family!