This last weekend we decided to have hamburgers so I thought why not take the opportunity to try making my very own hamburger buns? I love that now that I own a
BOSCH Universal Mixer
I can even consider throwing together homemade hamburger buns, and make it actually happen in a relatively short amount of time! The recipe for Soft Buns that I used this go around is featured in the
Marmee's Favorites Bundle giveaway
I currently have running, along with
The Bread Box
mini-zine.
I ended up substituting some of the unbleached flour for whole wheat, but they were still gloriously light and fluffy! I also rubbed their tops down with butter after they came out of the oven, but you could also brush them with egg wash and sprinkle with sesame seeds before baking and they would be equally wonderful!
Of course my hubby and kiddos were delighted to have the real deal on their burgers. My husband was so jazzed that he even wants me to make some hotdog buns next time! Even better, I was able to freeze approximately 25 more buns to pop out and bake up anytime we need them.
These buns are very versatile and could be used not only as buns but also as rolls for dinner or, as I like to do, a mid-morning, mid-afternoon, mid-evening and mid-night snack! Hey- I like me some good bread! You ladies have really go to try this recipe! Seriously! Run over and pick up a copy of
The Bread Box
at Marmee's wonderful little shop,
Marmee's Bread Market
, or you could also enter to win a whole bunch of great recipes in
my current giveaway- Marmee's Favorites Bundle
! Don't miss this opportunity ladies!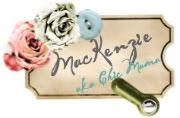 Be sure to visit my sponsor- Marmee's Bread Market- for recipes and everything else you need to easily make fresh baked goods for your family!