About This Book

-

courtesy of the Waterbrook Multnomah site
Can mysterious matchmaking booksellers bring two lonely hearts together in time for Christmas?
In a sleepy, snow-covered city, Cora Crowder is busy preparing for the holiday season. Searching for a perfect gift, a fortuitous trip to Warner, Werner, and Wizbotterdad's (a most unusual bookshop) leads to an unexpected encounter with co-worker Simon Derrick. And the surprise discovery of a ticket for a truly one-of-a-kind Christmas Ball.
Every year, the matchmaking booksellers of the Sage Street bookshop host an enchanting, old-fashioned Christmas Ball for the romantic matches they've decided to bring together.
This year, will Simon and Cora discover a perfect chemistry in their opposite personalities and shared faith? Or will the matchmakers' best laid plans end up ruining everything this holiday?
My Opinion-
Cute. If I'm being frank (or maybe I should just be MacKenzie! :-), it was one of those books I wasn't entirely sure about when I first got it. However, after the first chapter or so I was hooked. I love a good little romance and this one definitely fit the bill with a good dose of Christmas spirit thrown in to get me in the mood for the holidays!
There was a bit of "magic" thrown in, which I am always leery of. However, I do have to say that I appreciated the new perspective that Donita K Paul gave me of wizards- or at least the perspective of them in this book. She talks about them a lot as wizened older people rather than mystical and related to the witchcraft movement. I'm still not entirely sure what I think of the "magic" in the book but it wasn't offensive enough to deter me from reading.
If you are looking for a cute Christmas roman to read this season, Two Tickets to the Christmas Ball would be a good choice that you could definitely read before the 25th! You can find this book
here on the Waterbrook Multnomah Press website
.
And here is a little promo video you might enjoy!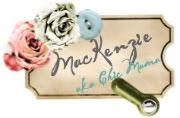 Be sure to visit my sponsor- Marmee's Bread Market- for recipes and everything else you need to easily make fresh baked goods for your family!