Well, this is definitely one time that I
really
wished I would have been able to use my
BOSCH
!! However, I was at my mother's house when we made the dough for our butter cookies, and as many of you know my
cookie paddles
had a bit of a mishap so I wouldn't have been able to use my
BOSCH
if I had been home anyway. (although my replacement paddles should be here soon!)
What a ham! He can't even bake cookies without trying to get attention!
So, we ended up mixing the cookie dough by hand! Ugh! Well, to be fair, I should be honest and say my mom pretty much did the mixing, but I empathized with her and took care of two crazy boys while she did it, so that
has
to count for something!
Once we got that done we were so exhausted that we only baked one batch! Haha! However, she did send me home with a bunch of dough to toll out when I was feeling more up to it. So, over the weekend I finally went for it and cut out and baked Christmas cookies with the boys!
My little kitchen helpers!
Can I just say I am really glad that nobody ended up with a concusion from all the swinging around of the rolling pin they were doing?! Seriously! Eventually we did get all the dough (that didn't end up getting eaten raw) cut into festive Christmas shapes and for that one night they were glorious and delicious.
I did throw them into ziplock bags however that caused them all to taste like plastic by the next day, so their scrumptiousness was short lived. Hey I tried!
He had to get his apron on!
Next year I will definitely be employing the use of my
BOSCH Universal Plus Mixer
with the
cookie paddles
to make a much bigger batch, and hopefully assortment, for the Christmas season! Maybe next year we will even get around to frosting them (which my
husband
prefers, and though it
does
make them prettier,
I
actually like them plain! So, nanny, nanny booboo!).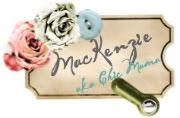 Be sure to visit my sponsor- Marmee's Bread Market- for recipes and everything else you need to easily make fresh baked goods for your family!