You may remember me mentioning Marmee's Sunday Night Dinner Rolls last week from her
Bread Basket cookbook
. Well, after posting I realized that I had never told you guys about these delightful little puppies before! So, today is the day!
Wish I had a better picture! This one really doesn't do these amazing rolls justice!
As with any recipe I am leery about it until I, and more importantly my family, taste it! Well oh my heavenly stars, the first time I popped a bite from on of these little morsels in my mouth I knew they would be a staple in my freezer whether my family liked them or not!
In fact, all the better if they didn't like them cause that would mean more for me!
As luck would have it though, they did like them... a lot! We seriously have these with dinner whenever we can! The recipe makes a huge batch so there are plenty to freeze, eat and even share with others! I have even given these as a birthday present to more than one friend this year (don't laugh! I'm serious about my bread!).
Another favorite of ours is spreading these rolls with cinnamon and sugar before we rolling them and having them after the meal for dessert! Sooooo yummy! Rhythm would solely eat these for dinner if I would let him!
So- just one more fantastic reason to get a
BOSCH Universal Plus Mixer
! OH- AND! I wanted to mention the customer service! remember a couple of months back when I mentioned how a fondant recipe gone wrong nearly destroyed my mixer!? Well, that blasted fondant actually bent the metal posts on the driver for my cookie paddles and caused some sort of grinding to start happening within the actual mixer bowl. Ugh! So,
Marmee
put me in touch with L'Equip (the manufacturer) and they sent me a brand new bowl and the brand new cookie paddles are on their way! Such great customer service and I am sooooo thankful! Thank you L'Equip & Marmee!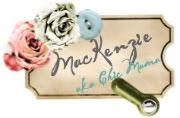 Be sure to visit my sponsor- Marmee's Bread Market- for recipes and everything else you need to easily make fresh baked goods for your family!