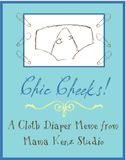 I thought it would be a good idea to post pics of our newborn stash while it is all clean at once- which I am sure will not be the case soon! So here it is!
So, how does it break down?
14 Nanipoos Newborn Fitteds (2 aren't pictured because they are sealed up for the birth!)
1 Sirius Fluff Fattycakes Fitted
12 Newborn Indian Prefolds
12 Kissaluvs Size 0
1 Monkey Doodlez Micro
2 Thirsties AI2s- X-Small
6 Thirsties Fab Fitteds- X-Small
4 Thirsties Covers- X-Small
I also have a pair of boy longies and girl longies, but those are sealed up for the birth as well! You can see them here though!
I would have liked to have had a few more covers, but we will just have to make 4, plus a couple pairs of longies work! I am thrilled with the number of dipes though!
The dipes I am most excited to use are our Nanipoos! They were a custom order (for the most part) and I just think they are the cutest things on the planet! They are really well made and were an AMAZING price! I will report soon on their performance, but if it is anything like what these dipes look like, it will be wonderful!
So, what do your newborn stashes look like? Are there things you are still wanting to get? Which diapers are you most excited to use? I can't wait to see!