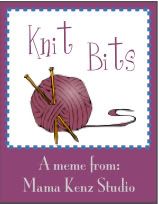 For this addition of Knit Bits I want to hear about a knitting technique that you would love to try out for the first time and a project you would use it on!
The new technique that I have had my eye on for quite some time is
this method of cabling without a cable needle
! How cool is that?! I especially want to use it on a cute
cabled baby hat
(after the baby is born so I can make the color gender specific) or pattern such as
this
for some little wristlet gloves (my hands are always so cold)!
Want to get involved in this Meme? Just write a short (or long!) blog post about the technique you want to try and a project to try it on, and post the link in a comment so we can all see! If you have recently done something new we would all love to see that too! I can't wait to see what you all have to share!