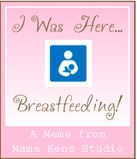 A few weeks ago a friend of mine posted these rules for nursing on her Facebook status and I just couldn't help but post them for an I Was Here... Breastfeeding Meme! I hope you all get as big of a kick out of these as I did!
1. No acrobatics
2. Keep all pinching, hitting or twiddling hands to yourself
3. No favorites, treat both sides as equals
4. No suck, pull back, and let go
5. If you bite, you will be placed firmly on the floor
6. Ask nice
7. Baby kisses or snuggles are not required but are a nice tip
8. I reserve the right to remind you of all the things you did to me when you have little people in your life. ;)
Aren't those great?! So, now I want to hear from all of you! For this week's meme I would love for you to blog about your own little "Rules for Nursing," I am sure this could get hilarious! As always, if you can't think of any rules for yourself (or if you would just rather) you can post a nursing pic of you and your little one(s). Write your post, include the button and come back here to link up in the MckLinky to your direct post! Happy Nursing!