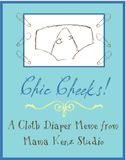 A couple of weeks ago I blogged about receiving the new Tiny Bubbles detergent from The Natural Baby Co and said that I would let you all know what I thought after I tried it. Well, we have been using it for about our last 4-5 washes and I am happy to report that it is every bit as wonderful as they say it is! Our dipes come out smelling and looking fresh as a daisy! I really couldn't be happier! I have been leery of ordering our detergent over the web for a few reasons, including shipping costs, but with these results I think I will have no choice but to do so!
The real test will be on R-Man's nap-time diapers to see if this detergent helps rid us of the dreaded ammonia stink! We have been combating ammonia build up from his toddler pee for over a year now and it is just the worst! I will keep you posted on how it performs on those!
Now I want to hear what your favorite detergent is! What is your washing routine? What has (and hasn't) worked for you?! Write your post (and include the Chic Cheeks button- left sidebar) then come back here and add your direct post link to the MckLinky! Share your washing knowledge with us!