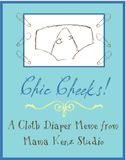 This past week I have found a couple of things going on in the cloth world that I thought I would pass along to all of you!
First off, there is a great new community called
Cloth Diaper Bloggers
that I am sure a lot of you would love! It was started by Kim from
Dirty Diaper Laundry
and it is just getting rolling! There are carnivals being planned and lots of fun cloth talk, so head on over and check it out!
Also,
Real Diaper Association
is hosting a
fluffy photo contest
for pics to put in their first ever calendar! How fun to have your baby featured on a month!
In honor of the contest I thought we could all post our prospective entry photos this week for Chic Cheeks!
(My pic will be coming- I promise!)
So, post your pics, include the Chic Cheeks button and come back here to post your direct link to the MckLinky! Can't wait to see your cute babes!