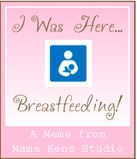 Did you know that August 1 marked the beginning of World Breastfeeding Week? What better week to get out there and nurse those babes in public, changing people's perception of what is normal when it comes to feeding babies?!
To celebrate this week I wanted to point out a few sites for you ladies to check out! The first is, of course, the official
World Breastfeeding Week site
from LLL. They even have a page that lists
local events
going on this week, so be sure to check it out to find the one nearest you!
The second is a blog called
Breastfeeding 1-2-3
and it has lots of awesome info about this week plus other fun support for breastfeeding moms.
Lastly, I wanted to get the word out about another event that will be happening on October 3- it is called the
Global Breastfeeding Challenge
and they are trying to organize events all over the country to set a record for the most babies nursing at one time! So far, the US only has 2 events scheduled (Canada has 53!), so I think we really need to step up to the plate ladies, and see about upping that number dramatically! What do you all think!?
As usual, I would also love for all of you to link up your latest breastfeeding pics! Include the I Was Here... Breastfeeding button in your post then come back here and put the direct link in the MckLinky! Can't wait for you all to share!

Now, go celebrate!