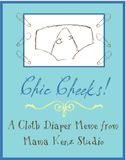 I won! I won! I won!!!!!! I still can't believe it! I feel like I have entered so many contests and never see any results! I have especially been entering contests for Gro Baby diapers (since the day they came out) because I have wanted to try one so badly but just couldn't bring myself to pay $24 for one! Well,
Barefoot Mommies
recently held yet another Gro Baby contest and my number was finally drawn!!
So, what's the verdict? I LOVE this diaper! I really didn't expect to like it as much do, but I do! The first time Lion Cub wore it he made quite a mess in it, but much to my surprise, it all stayed within the liner and didn't leak out onto the shell at all! Woohoo! The snaps hold very snugly which I appreciate since sometimes when I am pulling up other one-size diapers (such as BGs) in front, the snaps come undone and I have to start all over again. I don't have that problem at all with the Gro Baby!
Also, in case you haven't heard, Gro Baby is coming out with a bio-liner at the end of this month that sticks to the shell and can be flushed or thrown away (similar to gdiapers). This could be a nice option for travel. I have also considered using the bio-liners for R-Man at night since we are using gdiapers for him right now (although I am not sure if it will be more economical once I figure in shipping). The only downfall I can see with this dipe is that it runs pretty small. Lion Cub is only 10 weeks old and already on the largest setting, so it probably won't last much longer- bummer!
Have you tried a Gro-Baby yet? If so, I would love to hear what you think of it! If you haven't, then you are welcome to link up any other post about CDing you make on your blog this week- just make sure to include the Chic Cheeks button in your post and leave the direct link to your post!