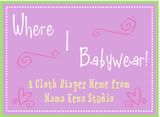 Lion Cub is getting so big that I don't wear him as much when we are at home, unless he is having a particularly fussy day. Well the last few days have been just that- particularly fussy- so yesterday I gave in, strapped him on my back and got down to getting some much needed cleaning done! Here are the pictures that my professional little three-year-old photographer snapped:
Putting fresh sheets on the bed! Thank goodness for my Mei Tai!

Link up your babywearing pics from this week (and include the Where I Babywear button)- we would all love to see!!