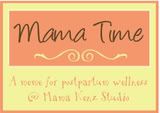 <>
This is one of those "I've got to be honest" posts. I have been getting burnt out. I just want time with no one screaming, crying or needing me- and not just for precious time to relax (which don't get me wrong, I would love!), but just to get my house clean! Maybe it's silly and I just need to suck it up and deal, but it really frustrates me to have a list in the morning of things I want or need to accomplish, and get to the end of the day with nearly nothing done! I know it is just the season that I'm in, that someday things will get easier again, but in the midst of this period I am just... tired.
It's tough to realize that you're not super woman- and I have been having that realization like a harsh slap in the face! Awwww... the joys of postpartum adjustment! Yeah me!
I will be more positive next week.
Want to commiserate? Post (with the Mama Time Button) and link! Here's to easier days!