So, I recently tried Marmee's recipe for "Best Bread" from her
Bread Basket Cookbook
. Can you say "Holy Moly! One of the best things I have ever consumed in my life?!" It may sound like I am exaggerating, but I literally cannot keep this bread in the house- not because I don't want to, but because we seriously eat an entire loaf in less than a day! I don't know how to explain it, but this bread is incredibly fluffy while still maintaining a density that feels glorious to sink your teeth into! This bread is the perfect combination of sweetness, lightness and downright yumminess!
Ok- so these ones got a little bit out of control! I thought I had just left them, but when I turned around and they had gone all wild! It was rather warm in the kitchen...
Now granted, the recipe is only about 1/3 whole wheat (I used about 50/50 in my last batch though and it worked fine), I still feel like it is better than anything I could buy in the store because I know every last ingredient that goes into it. It also calls for white sugar which I substituted for Sucanant in my last batch and it also worked just fine.
Before baking- I still can't believe that I was able to make this! Marmee's DVD directions were so clear and helpful that pretty much anyone could take on this seemingly difficult baked good!
Along with making straight up loafs of this dreamy bread, I followed Marmee's instructions in her
Make it Special DVD
to create a Garlic Mozzarella Sesame Parmesan Braid. We paired it with some homemade chicken and rice soup and it was AMAZING! The smell of it baking darn near made me want to crawl into the oven. This recipe alone is reason enough to go get the
Bread Basket Cookbook
and
Marmee's Bread Market
! And of course, to make it ultimately easy and wonderful to make, you should definitely think about getting a
Bosch Universal Mixer
... I'm just sayin'!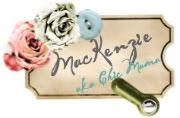 Be sure to visit my sponsor- Marmee's Bread Market- for recipes and everything else you need to easily make fresh baked goods for your family!