Oh boy- these were fun! I used
Marmee's
recipe for Spelt English Muffins from her
Bread Basket Cookbook,
except I substituted some of my home-milled whole wheat flour (that I milled with my
Nurtimill
) for the spelt. I have never tried anything like this before and I was a bit leery but they turned out so well! I mean, look how pretty they are, puffing up on the griddle-
This recipe makes a large quantity (I think I ended up with about 40) which I love because for just a little work we will have English Muffins in our freezer for quite some time!
We have used these for breakfasts, sandwiches and even mini-pizzas! They are just so yummy and versatile! I think the only thing I would do differently next time would be to make them a little bit bigger. Oh, and I wouldn't make them on such a hot day because that griddle was on for a good amount of time! Although, they did rise up nice and quickly with the heat!
I'm tellin' ya what though- I never would have tried to make these, especially this many, if I didn't have my trusty
BOSCH Universal Plus Mixer
! Seriously, If you guys have never considered getting one of these, do yourself a favor and at least go check them out at
Marmee's Bread Market
! After all, Christmas is on its way!!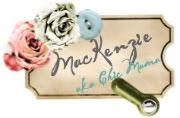 Be sure to visit my sponsor- Marmee's Bread Market- for recipes and everything else you need to easily make fresh baked goods for your family!