Apparently I am one of the very few people who hasn't heard of
Ree Drummond- The Pioneer Woman
, until now (or last week, actually). If you happen to be in the same camp that I was in just a week ago (of never having heard of her) then stop what you are doing and go meet her (on
her blog
of course) right now. WAIT! I guess I mean stop what you are doing
after
you read about her here,
then
go meet her.
I believe she has the true heart of an honest to goodness blogger. She is very real and full of character. She single-handedly makes me give serious consideration to switching to Wordpress.
And
this
, oh
this
, is some of the absolute best blogging advice I have ever read, complete with a reference to Steel Magnolias. And oh do I love a good movie quote.
I'll leave what I have to say about her at that and let you go discover the rest of the goodness and bounty at
The Pioneer Woman
yourselves.
What a find!
Yes, now you may go! I'm done! Scamper on now!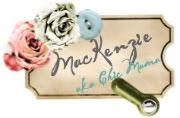 Be sure to visit my sponsor- Marmee's Bread Market- for recipes and everything else you need to easily make fresh baked goods for your family!