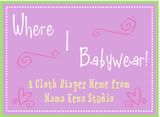 Surprise, surprise! This week's babywearing photos are at the lake!
Yup, Lion Cub is getting worn more and more in an effort to keep him less fussy- the lake was no exception! Gotta love that
Sleepy Wrap
!!!
Where did you babywear over the 4th? Post your pics, include the
Where I Babywear
button, then come back and put your direct-post link in the Mr. Linky! This one should be a lot of fun! I don't know about you, but I don't think that anything makes kiddos more "independent" than attachment parenting!