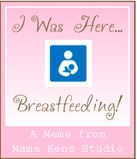 Well, this week I learned how to nurse while keeping Lion Cub in our
Sleepy Wrap
- how nice!
The pictures on the Sleepy Wrap site show keeping your babe upright while nursing, which I plan to work up to. However, simply sliding Lion Cub sideways into a cradle hold worked quite well also, especially since he is still so small. One of the really nice things about this nursing position was the support it gave my back and the release of weight on my arms- let's face it, we nursing mamas don't always have the best posture and arms support while feeding our babes, but this hold totally took care of that! I think I'm hooked!
The only thing that would make it nicer would be to have a shirt that opened from the top down (or an actual nursing shirt) so I didn't have to pull my shirt all the way up out of the wrap- at home it didn't matter but I probably would be less likely to use it like this in public.
We also had our first nursing outing this week when we went to dinner with my in-laws. I got to use the nursing cover I made for the first time and it worked quite well. I probably won't use it as much as Lion Cub gets older and I don't have to expose so much of my breast while nursing him, but for now it is definitely efficient!
So, where have you been nursing this week? Post about it, include the
I Was Here... Breastfeeding
button, and come back here and include the direct link to your post in the Mr. Linky! Can't wait to see! Get out there and breastfeed ladies- let's make it the norm!