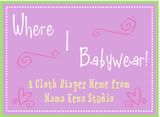 I have been doing LOTS of babywearing this week as it would seem that Lion Cub doesn't want to stay asleep when I put him in the swing (as he was for a week or so), so most of the time I end up needing to wear him to keep him happy and sleeping! Here is a picture of one of the times my
Sleepy Wrap
came in very handy- Tot-School:
If it weren't for my Sleepy Wrap, Tot-School would not be happening right now- period! However, being able to put Lion Cub in the wrap (even while he is fussy) while I do projects with R-Man has been our savior and I feel like I much better mom because of it!
In other babywearing this week, we also took Lion Cub to the store for the first time this past week. Because of it's ease to put on, I used my ring sling on our outing, however, I must say that after wearing the wrap so much lately I was definitely missing the comfort of it compared to my sling! I will always adore my sling, but there is a definite difference!
So where have you been babywearing this past week?
Post about it, include the Where I Babywear button then come on back here and add the direct link to your post in the Mr. Linky! I can't wait to see!