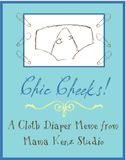 Well, Lion Cub is growing so darn fast I had to make an order for some small dipes last week. They came really quickly from
KellysCloset.com
which I was very thankful for- we were starting to have a lot of blowouts as his dipes were getting too small! Here is what I got for fluff mail:
(not all the dipes are pictured- some were in the wash! Lion Cub is sporting a Thirsties Fab Fitted and cover. On the left are some Fab Fitteds and the Stacinator, on the right are a FB and a BG)
1 Fuzzi Bunz One-Size, 2 BumGenius Fleece (but the stitching came undone on one, so I have to exchange it- I might get another Fuzzi Bunz in its place), 9 Thirsties Fab Fitteds, 1 Stacinator Fleece Cover (which is a little bulky for my taste but it will work for at home), 1 Thirsties Cover and a Batural Baby Company Pail Liner.
I hope to be able to add a diaper or two a month until I have my stash the way I want it- plus I just like try out new dipes!