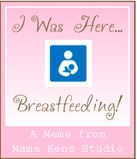 Yesterday we took R-Man to the park to run through the water features and it was the perfect chance to get a little "nursing in the park" shot! Lion Cub LOVES being outside, and since we had had a rough morning, it was a great way to relax (even though it was CRAZY hot out!).
Post your nursing pics! Include the
I Was Here... Breastfeeding
button then head back here and post your direct link in the MckLinky! Get out there and feed your babies ladies- it is the only way to make nursing the American norm!