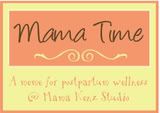 This week for Mama Time I want us all to share a few tips for new mommyhood beyond 6 weeks postpartum!

Here are mine:

1. Pray! A lot! I wouldn't make it through without prayer!
2. Shower at Night! This allows me to have my husband hold Lion Cub while I get a few minutes to relax. It also allows me to have one less thing to worry about in the morning- more time for other things!
3. Have a plan for your house! Following something like
FlyLady.net
(even if you don't follow it completely) will at least make your house a little bit less of a burden! I feel better knowing that I don't have to do everything at once, and just having an empty sink to wake up up to each morning is such a weight off! Doing at least one load of laundry a day does really make a difference too! It also helps to delegate!
4. Plan lots of BBQ meals if it is summer- that way DH gets in on half the meal prep!
5. Make sure you do something to maintain your identity! Even though that identity is in the process of inevitable change, you are still you and your voice is important! I recommend blogging (surprise, surprise)!
Have some tips to share? I would love to hear them! Blog about them, include the
Mama Time
button, and then come back here and post the direct link to the MckLinky!