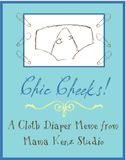 Well, at 3 weeks old Lion Cub has officially outgrown his newborn Nanipoos- he could still fit his waist into them (he has the tiniest butt I have ever seen!) but his thighs are just too large! As of Monday he was already 9.12 lbs- that's a 2.6 lb gain in 3 weeks! The weigh babies grow so fast always amazes me!
So, obviously, we are on our way to needing some small diapers! His Kissaluvs size 0 dipes and his newborn Thirsties still fit, but I don't know for how much longer. We started using our BumGenius 3.0s this week, along with the one Baby Kangas we have, and I have been suprised by the fit- they really aren't
that
huge on him like I thought they would be. Sure, they aren't as trim as a sized diaper, but they sure are effective! Bum Genius have become my go-to diaper for night times right now since I am able to stuff them enough to withstand a good amount of pee- Lion Cub tends to nurse and fall right back asleep during the night (soooo nice- especially since we cosleep!), so I only need to change him if he has poo-ed, which he is doing less and less at night! Yeah- more rest for mama!
Anyway- back to diapers- I plan on making a pretty significant order as soon as we get paid from our last job. Here is what I am planning on ordering (mostly from Kelly's Closet- some from The Natural Baby Company:
12 Thirsties Fab Fitteds
2 Fuzzibunz one-size (to try out- will possibly buy more later)
2 Bum Genius Fleece
3 or 4 Dream-Eze fitteds
1 GroBaby (to try- I am hoping to get this one but am not sure)
2 Pail liners (for our upstairs changing table)
1 planetwise medium wetbag
So, are any of you adding to or making changes to your stashes? What have you recently tried that you love or hate?
Post about it, include the Chic Cheeks button then head back here and post the direct link to your post in the Mr. Linky! I can't wait to see what you all have been trying out!