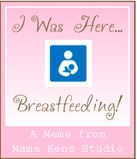 Well, as most of you know, we spent our 4th of July at my in-law's lake cabin. It was so nice to get away and relax! Here is a pic of me nursing Lion Cub on the shore- watching R-Man make a sand castle and go crazy in the water!
Do you have pics of your 4th of July nursing adventures? I would love for you to share! Post them, include the
I Was Here... Breastfeeding
button, then hop back over and put your direct post link in the Mr. Linky!